If you know that your child is going to be absent from School e.g. Dental, Hospital or Clinical appointments please let the office staff know in advance. Children are expected to attend School every day unless there is a good reason not to. There is no right to leave during term time. Requests will not be considered for any leave during term time. For an illness or unforeseen absence, please let us know the reason for absence as soon as possible.
Unauthorised absences are those for which we do not receive an explanation, or days for which there is not an adequate excuse. Unacceptable excuses for a day off include: going to buy shoes or clothing – getting up late – a day off for the child's birthday – going to see relatives, term time holidays or visits abroad.
We are required by the Government to monitor all absences and do so every week. If your child is absent then they miss valuable lessons. An average of one day missed each week adds up to one whole school year missed in four years! PLEASE help us to educate your child by ensuring they attend every day.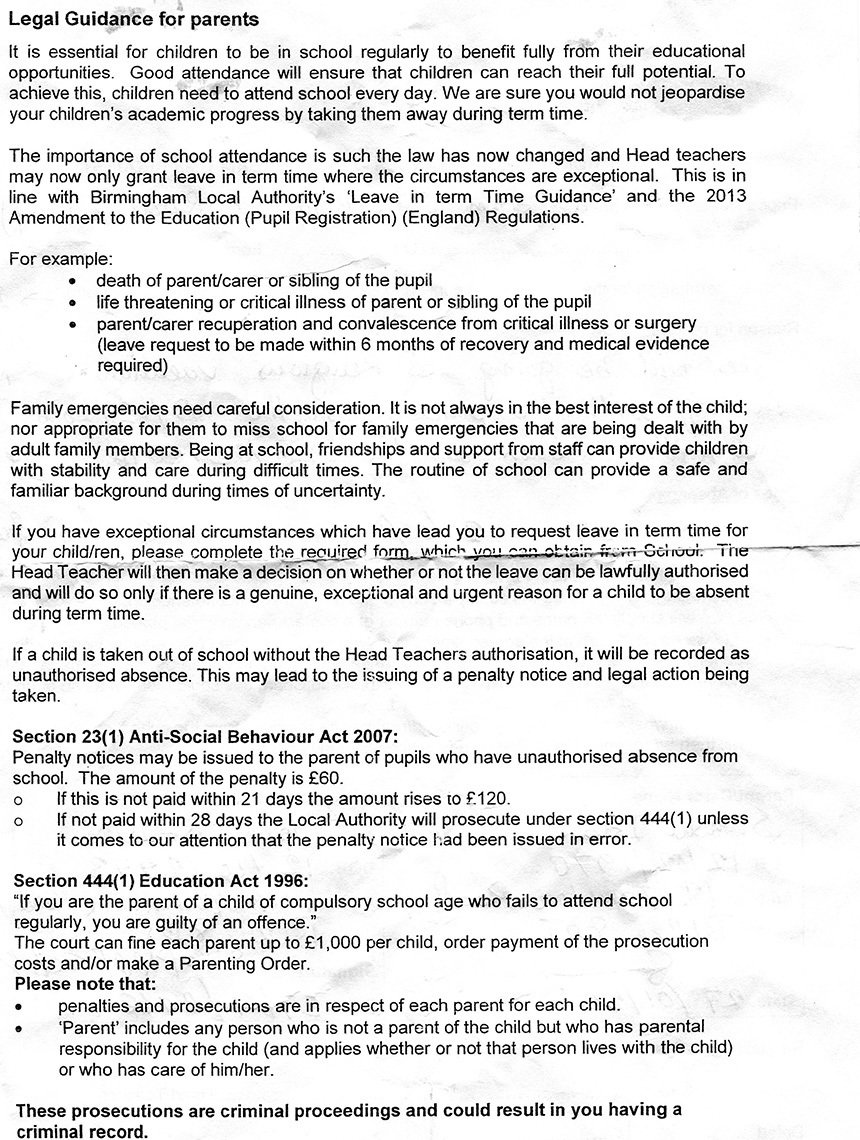 HOLIDAYS
Children have 13 weeks holiday every year. This is plenty of time to go on holiday and visit family. With effect from 1st September 2013 The Education (Pupil Registration) (England) Regulations.
EMERGENCY CONTACT
In the case of illness or accident, it is essential that we have a telephone number and address where parents can be contacted quickly. You will be given a form to fill in to supply this information. If you change address or place of employment, please let us know immediately.
EDUCATIONAL VISITS
Visits form an integral part of the curriculum. A form of consent must be signed for each child, for each visit made. Voluntary contributions towards the cost of the visits which take place wholly in the school day will be sought in accordance with the Charging and Remissions Policy set by the School Governors. Last year visits included London, Camping, Weston-Super-Mare, Think Tank, Black Country Museum. If parents find it difficult to make a contribution towards a visit, then a brief word with the Head teacher is advisable and the School may be able to help.
MEDICAL CARE
We have our School Nurse who takes care of children's health needs. Medicines are only allowed in School by prior arrangement with the Nurse or Head Teacher. A disclaimer form needs to be signed by parents/guardian before medicines are administered. As a general rule, we only administer medicines that are prescribed for the child for 4 doses a day. Children in Key Stage Two should carry their inhalers at all times.
Parents of Early Years and Key Stage One children should make individual arrangements with the School through the Nurse. If a child wears glasses or a hearing aid or has any diagnosed allergies it is essential that the class teacher is made aware of this item per day. Parents are often faced with the dilemma of whether to send their child to School after an illness. Please consult the Head teacher if your child has been suffering from an infectious illness as she has an official list of exclusion periods. No child should attend school until at least 24 hours after symptoms of vomiting or sickness have ceased.
The Health Service Nurse will see any child who has been referred by the School. If you want the Nurse to see your child, we can arrange an appointment for you. Our own School Nurse administers First Aid and looks after children who are unwell and advises pupils and parents on a range of health issues and can refer children to the School Doctor.
CHILD PROTECTION & SAFEGUARDING
We follow the Birmingham City Council Guidelines. If we feel that any child is at risk then we are obliged to refer the matter to Social Services.
COMMUNITY AND FAMILY EDUCATION
We work with parents at every stage of their child's education, covering all areas of the Curriculum. We work in partnership with parents to improve the children's performance in school.
Our activities include the Drop-in Centre, helping to give children a settled home life and to give parents a positive view of school and Story Sacks, where we work with parents to develop stories. We also run workshops and courses, aimed at helping parents to work with their children and the school to improve standards; along with Family Literacy and Numeracy groups, which work with targeted groups of parents so they can work confidently at home with their children.
We also run Adult Education Courses, Breakfast Club, school holiday play schemes, and road safety training.
EQUALITY OF OPPORTUNITY
We recognise Anderton Park School as a multi-racial school in a multi-racial community. We aim to ensure that our curriculum and general ethos reflects and values the rich diversity of culture present in our midst. The school is committed to emphasising the common elements and values of our multiple cultures, and aims to provide positive images for our children, regardless of race, gender, background, ability or disability.
We recognise that the effectiveness of our policy depends on the full support of all parents, pupils, governors and staff. Please support our policy at all times.
WORKSHOPS FOR PARENTS AND FAMILIES
Workshops are a chance for parents to learn a little more about how to help their children at home, keep parents up to date on any new ideas in school and a chance to work with their child in the classroom with the children.
We are committed to school and families working together to help children make great progress. We talk with parents about ways to continually improve and for new ideas. They also provide opportunities for staff and families to get to know each other better. Relationships are very important to us.
SCHOOL DINNERS
Please see our menus below: